How right to fast in a crisis conditions
Europe's response to the crisis
Blog post by Christine Lagarde, President of the ECB
Robert Schuman famously argued that "Europe will not be made all at once, or according to a single plan. It will be built through concrete achievements which first create a de facto solidarity". This was as much a prediction as it was a challenge. One of the most important characteristics of any effective polity is its ability to adapt to unexpected circumstances and redefine what solidarity means. In its response to the coronavirus (COVID-19) pandemic, Europe has passed the test.
COVID-19 has delivered the largest shock to the European economy since the Second World War. Key macroeconomic indicators have plunged on a scale and at a speed previously unseen. Industrial production fell by 18% month-on-month in April. Durable goods production was down by almost 15% in the same period and new car registrations dropped by around 50%. If the ECB's baseline macroeconomic scenario for 2020 is borne out, the euro area will lose as much output in two quarters as it had gained over the previous 15 years – and growth will not recover in full until the end of 2022.
Faced with an economic collapse of this magnitude, macroeconomic policies had to respond with commensurate alacrity and force. The overriding imperative was to prevent a wave of bankruptcies and job losses that would have caused untold harm to the lives of Europeans and left deep scars on our economy. The priority for national authorities was to "freeze" the economy in order to suppress the epidemic and temporarily absorb the loss of private income triggered by the lockdown measures. In parallel, monetary policy was called on to prevent financial markets from falling into a downward spiral and amplifying the shock.
This twin policy response was – at the outset – naturally conditioned by the design of our institutional framework, where monetary policy is a European competence and fiscal stabilisation takes place through national budgets. This differs from the United States, where the federal budget is responsible for a large share of fiscal stabilisation. In fact, it is estimated that around 50% of an unemployment shock in the euro area is absorbed through national budgets, significantly more than is absorbed by the federal budget in the United States. [1]
So it was no surprise that national governments and the ECB were the first responders in Europe. But this did not make our reaction any less powerful. With the EU's fiscal rules suspended due to the extraordinary situation, European governments have pushed through unprecedented fiscal expansions, with the aggregate fiscal balance expected to widen to around -8.5% of GDP in 2020. Monetary policy has launched new measures of extraordinary size and innovation. And, when the limits of national responses became visible, Europe adapted again: national measures have been complemented by a targeted and forceful European fiscal response.
Crucially, monetary and fiscal policies have reinforced each other. Two key features of the euro area economy – our reliance on bank-based financing and our preference to protect jobs – have become the cornerstones of our crisis response.
First, national fiscal authorities have offered massive loan guarantees and other liquidity support measures – equalling around 20% of euro area GDP – to mobilise banks and deliver liquidity to firms as fast as possible. Monetary policy has provided €1.5 trillion to fund this credit expansion at the most favourable terms we have ever offered through our new series of targeted longer-term refinancing operations. In order to ensure that lending reaches even the smallest borrowers, the ECB has started to accept loans to micro firms and sole traders as collateral in our operations. And our supervisory measures, acting in tandem, have freed up €120 billion in bank capital for new lending.
From March to May, the increase in bank lending to euro area firms was almost €250 billion, the largest rise on record in a three-month period. Across countries, loan growth and guarantee take-up are very strongly correlated. This emergency lending has been critical in keeping viable firms liquid and encouraging employers to stem layoffs.
Second, national governments have provided unheard-of fiscal support to firms that retain jobs, helping make the surge in bank loans and corporate debt serviceable ex post. More than 25 million workers in the euro area – 15% of employment – have been enrolled in short-time work schemes during the second quarter. As a result, jobs and incomes have been protected and the connections between employers and employees have been preserved.
Monetary policy has enhanced and empowered these actions by countering the serious risks posed by the outbreak to monetary policy transmission and the outlook for the euro area. In particular, our €1.35 trillion pandemic emergency purchase programme has prevented an undue tightening of financial conditions for both public and private sectors.
In parallel, the ECB has acted to facilitate access to euro liquidity outside the euro area by setting up a series of bilateral swap and repo lines with other central banks and launching our new Eurosystem repo facility, which can be accessed by a broader set of central banks. This has helped in stabilising financial markets, especially in countries where the euro is often used extensively, and in fostering the euro's international role.
Towards a European response
The scale of fiscal support in Europe has created huge financing needs for national governments, who are expected to issue €1 trillion to €1.5 trillion in additional debt this year. At the same time, the euro area entered the crisis with debt ratios among member countries ranging from 8% to 175% of GDP, threatening an asymmetric and uneven fiscal response. Faced with a common shock, it was appropriate for Europe to deploy its collective weight through its common institutions to ensure that all members could react to the crisis adequately. The next phase of Europe's response to the crisis was about putting this into action.
The first element was to support and complement national fiscal responses mainly by strengthening existing European facilities. The European Stability Mechanism, the European Commission via its Support to mitigate Unemployment Risks in an Emergency (SURE) scheme, and the European Investment Bank made available a €540 billion safety net to help finance sovereign expenditures related to the pandemic, fund national short-time work schemes and provide credit guarantees to firms. Support largely consisted of access to very cheap loans.
As the full scale of the crisis became clearer, Europe went a step further by recognising that loans would not be sufficient for the worst-afflicted countries, since they would only increase public debt levels further. But European funds had previously been used for long-term convergence and not for recovery and stabilisation purposes. This is why the Next Generation EU (NGEU) fund – agreed in the early hours of Tuesday morning by the European Council – is such an important step forward. For the first time ever, Europe has – temporarily – put in place a European budget that complements the fiscal stabilisers at the national level.
From 2021 onwards, €750 billion in new European spending will come on line, with two unique new features: outlays will be financed by European debt issuance and €390 billion of the spending will take the form of grants. This represents a good balance between grants and loans and will offer significant support to the countries most in need. There are two key benefits to this approach.
First, so far little fiscal support has been legislated at the national level beyond the end of this year, which could create a risk of premature fiscal tightening in Europe. Under the European Council agreement, 90% of the total NGEU envelope will be disbursed to sovereigns through the Recovery and Resilience Facility, and 70% of all funding from that facility will be committed by the end of 2022, with the remaining 30% following in 2023. This means that additional European stimulus will come on line at the right moment to complement and bolster national fiscal responses.
Second, it is already clear that the recovery phase of the crisis will be less about preserving the status quo – which was the initial priority – and more about transforming the economy to reflect the new realities of the post-COVID-19 world. But reallocation from "sunset" industries towards new sectors and technologies usually takes time. [2] Government actions will therefore be key in smoothing the transition and promoting change – and the NGEU fund can help anchor that transition.
Most importantly, 30% of spending in both the NGEU fund and the EU budget will have to be linked to the climate transition and all spending should be consistent with the Paris climate goals. This means that more than €500 billion will be spent on greening the European economy over the coming years – the biggest green stimulus of all time. Countries will only be able to receive money if they submit recovery and resilience plans that contribute to the green and digital transitions. These must be our priority areas if we are to exit this crisis modernised, reformed and strengthened. And in order to reach this goal, NGEU will need to be firmly rooted in sound structural policies conceived and implemented at the national level.
Learning the lessons of the past
Measured against realistic expectations, Europe's response to the crisis has been impressive. It has substantially exceeded the most recent benchmark – its response to the sovereign debt crisis – and broadened the boundaries of what is possible should we be struck by such dramatic shocks again. Indeed, even though NGEU is temporary, the potential to activate such tools in future crises is already a powerful change to the structure of the Union.
But this raises a final question: why has the response been better than before? Learning the lessons of the past, Europe has moved towards a new model for dealing with crises: one based around strategic autonomy, policy coordination and the Union method.
First, Europeans have realised, more than ever before, that their prospects for growth depend on each other. During the sovereign debt crisis, several countries compensated for the weakness of the monetary union by turning to the rest of the world to sell their exports. But the global nature of the COVID-19 crisis and the slow and uneven recovery have curtailed that possibility. At the same time, the euro area has only become more interconnected over time, with trade and supply chain linkages amplifying common shocks by around 20%. The upshot is that no country can recover and thrive fully unless its European partners do, too.
Second, we have seen the value of policies complementing each other rather than working against each other. A key shortcoming of the euro area during the sovereign debt crisis was its failure to consider the aggregate policy mix – that is, the negative spillovers created by uncoordinated fiscal policy tightening at a time when monetary policy was aiming to stimulate the economy. From 2013-18, fiscal policy in the euro area tightened by around 2.5 percentage points of GDP, compared with a loosening of around 0.8 percentage points in the United States. [3] This was one factor behind the euro area's weak growth and inflation dynamics during that period. Now, policies are fully aligned in securing the fastest possible recovery, which also underpins medium-term price stability.
Third, Europeans have concluded that a coordinated response works best with the EU leading the way. The response to the sovereign debt crisis mainly took place outside of the EU's institutional framework, which helped facilitate agreement but also brought a "last resort" logic to collective decisions. The decision to place NGEU within the EU budget, however, broke with these constraints and sent a different signal about solidarity. The very positive market reaction to the Franco-German and European Commission proposals in May illustrates how this shift was perceived from the outside. [4]
This new model for action did not emerge overnight. It took some haggling and internal disagreements. But Europe has adapted. We have shown that we can act quickly and adapt our institutions in the face of even the most severe challenges. Europe is a community built on interdependence, and working together is by far the best medicine to treat the economic symptoms of COVID-19. Now we must carry forward the positive momentum we have built and shape the recovery further. In doing so, we can rise to Schuman's challenge and forge a new Europe out of this crisis.
[1] See Dolls, M., Fuest, C., Kock, J., Peichl, A., Wehrhöfer, N. and Wittneben, C. (2015), "Automatic Stabilizers in the Eurozone: Analysis of their Effectiveness at the Member State and Euro Area Level and in International Comparison", Centre for European Economic Research, Mannheim.
[2] See Davis, S.J. and Haltiwanger, J. (2001), "Sectoral job creation and destruction responses to oil price changes," Journal of Monetary Economics, Vol. 48, No 3, December, pp. 465-512.
[3] Suggesting a difference in the total fiscal impulse of around 3.3 percentage points.
[4] See Buti, M. (2020), "A tale of two crises: Lessons from the financial crisis to prevent the Great Fragmentation", VoxEU.
Related topics
Coronavirus
Pandemic emergency purchase programme (PEPP)
Monetary policy
Fiscal policy
Liquidity
Policies
Banking sector
Euro area
European integration
Disclaimer
Please note that related topic tags are currently available for selected content only.
Afghanistan crisis: G20 leaders pledge to avert economic catastrophe
Members of the G20 group of major economies have pledged to avert an economic catastrophe in Afghanistan.
German Chancellor Angela Merkel said the country should not be allowed to «descend into chaos».
The virtual summit came as the UN urged world leaders to put billions of dollars into the Afghan economy.
US President Joe Biden stressed that aid should be provided via independent international organisations and not directly to the ruling Taliban.
But so far the money forthcoming has largely been counted in millions, just to provide emergency food and medicine.
Pledges include a promise by European Commission President Ursula von der Leyen to give €1bn ($1.15bn; £850m) to Afghanistan and to neighbouring countries taking in refugees.
Mrs Merkel, who did not stand for re-election last month and will step down as chancellor once a new government is formed, reaffirmed Germany's pledge of €600m.
«None of us has anything to gain if the entire monetary system in Afghanistan collapses or the financial system collapses,» she told reporters.
«Then humanitarian aid can no longer be provided. Of course it's never easy to draw the line, so to speak, but to look on as 40 million people descend into chaos because there's no electricity supply or financial system — that cannot and must not be the goal of the international community.»
A difficult situation made worse
By Yogita Limaye, BBC News, Kabul
The takeover of this country has caused a massive shock to an economy that was just about surviving.
Banks were closed for many days after the Taliban seized control, and while many have opened now, accessing cash is still difficult.
Many businesses shut down because their owners fled the country fearing for their lives. Many of those who had jobs haven't received salaries for months.
With no cash in the market, there has been a sharp rise in prices of day to day necessities including food. An already difficult situation created by war and drought has become much worse.
Women who had jobs and supported their families can no longer work and are now entirely dependent on handouts.
In Kabul, hundreds of people are still living in the open in tents with harsher winter months fast approaching.
Development aid given by foreign countries and agencies to Afghanistan, which helped to put cash into the economy, is all but frozen. This, on the ground, means that people who worked on development projects are out of jobs.
The global community faces a tough decision — how to reach the Afghan people, without recognising a Taliban government.
The chancellor said the Taliban must grant access to all UN bodies delivering aid, and stressed the need for the rights and girls and women to be respected.
Mrs Merkel's words were echoed by Italian Prime Minister Mario Draghi, who was hosting the virtual summit.
He said G20 countries had to have contact with the Taliban but that did not mean recognition of the Islamist group's government.
Not all G20 leaders were present — Chinese President Xi Jinping and Russian President Vladimir Putin sent representatives — but Mr Draghi said all participants had agreed on the need to provide more aid.
The leaders also discussed ways to prevent Afghanistan becoming a haven for militants such as al-Qaeda and the Islamic State group, and the need to provide safe passage for foreign nationals and Afghans hoping to leave Afghanistan.
AT THE SCENE: Fighting off hunger under the Taliban
ANALYSIS: What has changed in Afghanistan in 20 years
ANALYSIS: A new order begins under Taliban rule
The summit came as Western and Afghan officials met in Qatar to discuss aid, terrorism concerns and evacuation of foreigners.
These were the first direct talks between the two sides since US troops left Afghanistan and the Taliban took power in August.
'Nothing to eat'
The recent international moves come as Afghanistan faces what aid workers fear is a severe humanitarian crisis.
Afghans have been describing their difficulties to the BBC.
«Nothing can be found, and even if it is available, it's too expensive and not affordable,» one retired man said. «I was paid last year and am still waiting on my salary, I have nothing to eat with my children.»
Another, a government employee in the northern town of Takhar, complained that officials were lying about the payment of salaries.
«I've received nothing,» he said. «What type government is this?  If an employee doesn't go to work, there would be complaints and an investigation. But if he's not being paid, how can he survive?»
UN Secretary-General AntГіnio Guterres warned at a donor conference last month in Geneva that the poverty rate was soaring and public services were close to collapse.
Some 40% of the country's GDP — national output — comes from aid, according to the World Bank.
The US froze $10bn (ВЈ7.3bn) of the country's central bank assets after the Taliban captured Kabul on 15 August.
For the poor in Kabul, the priority is staving off starvation, the BBC's Jeremy Bowen recently reported from the Afghan capital.
How learning in a crisis can build more resilient leadership
The Resilience Shift project focuses on the urgent need to secure the world's future through resilient infrastructure, the critical nature of which has been highlighted by the COVID-19 pandemic;
As part of the project's leadership programme, the project aims to better understand how leaders make decisions at times of crisis and how they can form critical decision-making skills before a disaster happens;
The programme has already yielded a series of insights transformative behaviours that can help people to lead in a crisis.
COVID-19 has highlighted how vital infrastructure is in supporting the functions on which society relies, such as healthcare and food production. An equivalent to 45% of the sea freight capacity between Europe and Asia and the transpacific region was cancelled within a few weeks of COVID-19 being declared a pandemic, for example.
Have you read?
The best way to rebuild business resilience post-COVID-19? Lean into uncertainty
3 steps towards enlightened leadership – and career success
How COVID-19 can prompt a reset on leadership for better health
It has never been more important to have infrastructure networks that are resilient and some are taking the opportunity to learn from the crisis.
The Resilience Shift is focused on the urgent need to secure our future through resilient infrastructure. It highlights the opportunities for recovery to transform our infrastructure and build long-term resilience while contributing to the UN's SDGs.
Dr Juliet Mian, Deputy Executive Director and leader of the programme's technical activities, explains: "We think about resilience as our ability to withstand, adapt to and recover from disruption due to a sudden shock, rapidly changing circumstances or chronic stress."
Noting that climate-related disasters have cost the world $650 billion in the last three years, she adds: "This crisis is an opportunity to consider our resilience – not just to COVID-19 and the wider impact it is having on the economy, but also to an uncertain future and to climate change, another much bigger slow-onset crisis. We must not just go back to normal but rather seek the opportunity for transformational recovery.
"We recognize that we have a unique opportunity to learn from current events to improve infrastructure resilience going forward. This also means building the resilience and knowledge in terms of preparation, response or recovery, of the humans who are part of every infrastructure system.
"The importance of decision-making during recovery to make sure that our infrastructure systems do adapt and do transform to enhance future resilience, particularly thinking about the even greater crisis that climate change threatens, is very immediate, and very urgent."
Leaders are being asked to make difficult decisions with the challenges of the coronavirus outbreak. But how can they be sure they are making the right decisions and remain resilient when faced with such challenges? Furthermore, how can leaders form these critical decision-making skills before a crisis or disaster happens?
As the programme's Resilient Leadership project started, most of the world was already in lockdown. It started with a question: what if we could listen in to senior leaders as they navigate the waters of decision-making during this crisis in real-time?
Barbara Humpton, CEO Siemens USA, says: "We say hindsight is 20/20, but what about our vision in the midst of a crisis? This project is documenting the world's response to pandemic, week-by-week, from the perspective of diverse leaders. The resulting narrative reveals the true nature of resilience as it takes root and grows."
Reflective learning through expert listening
Humpton is one of the participants in the Resilient Leadership initiative by The Resilience Shift that aims to understand decision-makers' real-time response to crisis. It will interview 12 senior leaders from diverse organizations, following their journey through 16 weeks of real-time, reflective learning.
Seven participants are senior executives in large, globally significant corporations: Arup, Lloyd's Register Group, We are Optima, SAP, Siemens, the World Bank and WSP. Five are the Chief Resilience Officers of major cities in the Global Resilient Cities Network.
Participant, Craig Kesson, Executive Director, Chief Data Officer and Chief Resilience Officer, City of Cape Town, says: "Building resilience requires an active process of reflection; the ability to use lived experience to inform present and future decisions. This learning initiative has allowed for the real-time accumulation of global insights which reveal what is common and different about this shared moment. It is a unique contribution to the living archive of what this pandemic will mean for all of us."
Emerging insights from the project
At the half-way point of the project, an initial set of emerging insights has highlighted how important the value of reflection is in allowing these leaders to learn. It has also reinforced not only that resilience is grounded in people and their behaviours but highlights our societies' dependencies on infrastructure systems and the interdependencies between them.
"We are grateful for the project's participants that, through their time, dedication and willingness to learn in real-time, with us and each other, are contributing to the future resilience and capability of senior decision-makers around the world," says Seth Schultz, Executive Director, The Resilience Shift.
The initiative has already identified 10 emerging insights into transformative behaviours that can help people to lead in a crisis:
There must be trust in a leader's ability to put safety and wellbeing of people first, and broadly, trust in them as leaders;
Leaders need personal and professional resilience. This "battle memory" is built up over time by individuals and teams, but they should also anticipate longer-term fatigue;
They must be forward-leaning, capturing the sense of urgency created by a crisis to seize the opportunity of a critical window to shape the future.
Leaders are not afraid to let go and delegate to others. The ability to give up control and devolve responsibility by empowering others is a vital skill;
They must pay attention to, and act on, early signals of trouble and be willing to make tough decisions without delay. All this while constantly monitoring vital signs such as finances, employee well-being and the condition of essential stakeholders;
Leaders recognize that, just as with human health, pre-existing conditions determine the severity of a crisis. Improving underlying conditions in supply chains, infrastructure systems and marginalized communities ahead of time pays handsome dividends when a crisis arrives;
Leaders can take advantage of the power of solidarity in a crisis to overcome institutional or structural barriers. Communities and companies can step in where governments can't;
In times of great uncertainty people need their leaders to lead. In particular, they look to them for calmness, a willingness to share information clearly and the honesty to admit if they need to change direction;
In a crisis, good leadership embraces the uncertainty and speed of change, developing what is effectively a start-up mentality, being agile and fast moving, flexible and opportunistic;
The resilient leader keeps a focus on an organization's core purpose and stays open to seizing transformational opportunities while managing the day-to-day chaos.
Capturing real-time insights of senior decision-makers
Follow the 12 participants as they complete the second half of the project. Their reflections are captured in weekly blogs, graphics and podcasts as further insights are distilled into the challenges of leading in a crisis.
Fasting under Crisis Conditions
— Vladyka, people today are already deprived of their everyday joys, while fasting seems to be taking away the last remaining of them. How should we be fasting under these conditions?
— Earthly life was given to man so that we could achieve eternal salvation. Much in our lives does not depend on us. We do not get to choose when or where to be born, or who will become our parents.
All this is given to us by God as part of His providential care for man, while our main goal is to use all our strength to cleanse our hearts and prepare our souls for living in eternity.
We will not get much further in that by complaining about our current difficult situation. When we feel good, we often forget about God and rarely thank Him. Often we remember God only when we encounter unpleasant experiences or difficulties. This is when we begin looking for reasons why they take place in our life.
Everything is clear to a believer, because a believer is focused on spiritual life. Spiritual life is always an internal struggle, a desire to see our real selves in the true light.
When we see all our imperfection, we must correct it with all possible means. Fasting is certainly one of them.
It is wrong to think that there is some special kind of abstinence or some allowances making fasting different in the times of crisis. The only real difference here is the situation itself, forcing us to think about the meaning of our life, to comprehend the essence of the events and our actions.
One should always fast in a way that brings spiritual benefit, which will come only when we learn humility not theoretically, but to the extent of understanding our complete inability to achieve perfection on our own. Let us be kinder to those people who go through these difficult times without the gracious help that we, Christians, have in church.
As our liturgical books tell us, fasting is called to destroy and erase our inner corpulence through self-abasement and self-restraint. Fasting is a way to achieve gentleness of the soul, which makes a person able to hear God and accept another person.
Our main goal in the fast is to fall in love with God again and to regain the lost paradise.
It's 2023. Here's How We Fixed the Global Economy
T he year is 2023. The COVID-19 pandemic has come to an end, and the global economy is on the path to recovery. How did we get here? How did our economy and society evolve to overcome the greatest crisis of our age?
Let's begin in the summer of 2020, when the unabated spread of disease was heralding an increasingly dire outlook for economies and societies. The pandemic had exposed critical vulnerabilities around the world—underpaid essential workers, an unregulated financial sector and major corporations neglecting investment in favor of higher stock prices. With economies shrinking, governments recognized that both households and businesses needed help—and fast. But with memories of the 2008 financial crisis still fresh, the question was how governments could structure bailouts so they would benefit society, rather than prop up corporate profits and a failing system.
In an echo of the "golden age" of capitalism—the period after 1945 when Western nations steered finance toward the right parts of the economy—it became clear that new policies were needed to address climate risks, incentivize green lending, scale up financial institutions tackling social and environmental goals, and ban financial-sector activity that didn't serve a clear public purpose. The European Union was the first to take concrete steps in this direction after agreeing in August to a historic €1.8 trillion recovery package. As part of the package, the E.U. made it mandatory for governments receiving the funds to implement strong strategies for addressing climate change, reducing the digital divide and strengthening health systems.
In late 2020, this ambitious recovery plan helped the euro stabilize and ushered in a new European renaissance, with citizens helping to set the agenda. The European leadership used challenge-oriented policies to create 100 carbon-neutral cities across the Continent. This approach led to a resurgence of new energy-efficient buildings; revamped public transport designed to be sustainable, accessible and free; and an artistic revival in public squares, with artists and designers rethinking city life with citizenship and civic life at its heart. Governments used a digital revolution to improve public services, from digital health to e-cards, and create a citizen-centered welfare state. This transformation required both supply-side investments and demand-side pulls, with public procurement becoming a tool for innovative thinking that funneled through all branches of government.
The U.S. began to change its approach after Nov. 3, 2020, when Joe Biden defeated Donald Trump in the presidential election and the Democrats held the majority in both houses of Congress. Following his Inauguration in January 2021, President Biden moved quickly to rebuild frayed ties between America and Europe, setting up a forum to share collective intelligence that could inform a smarter form of government. European governments were eager to learn from the investment strategies used by the U.S. government—like those led by defense research agency DARPA—to spur research and development in high-risk technologies. And the U.S. was eager to learn from Europe how to create sustainable cities and reinvigorate civic participation.
With COVID-19 still rampant, the world woke up to the need to prioritize collective intelligence and put public value at the center of health innovation. The U.S. and other countries dropped opposition to a mandatory patent pool run by the World Health Organization that prevented pharmaceutical companies from abusing patents to create monopoly profits. Bold conditions were placed on the governance of intellectual property, pricing and manufacturing of COVID-19 treatments and vaccines to ensure the therapies were both affordable and universally accessible.
As a result, pharmaceutical companies could no longer charge whatever they wished for drugs or vaccines; governments made it mandatory for the pricing to reflect the substantial public contribution to their research and development. This extended beyond COVID-19 therapies, impacting the pricing of a range of medicines from cancer therapies to insulin. Richer countries also committed to increasing manufacturing capabilities globally and using mass global procurement to buy vaccines for poorer countries.
On Feb. 11, 2021, the FDA approved the most promising COVID-19 vaccine for manufacture in the U.S. Mass production began immediately, plans for swift global distribution kicked in, and the first citizens received their shots within three weeks, free at the point of use. It was the fastest development and manufacture of a vaccine on record, and a monumental success in health innovation.
When the vaccine was ready for distribution, national health authorities worked constructively with a coalition of global health actors—led by the WHO, the Bill and Melinda Gates Foundation and others—to collectively devise an equitable global distribution plan that supported public-health goals. Low- and middle-income countries, along with health workers and essential workers, were granted priority access to the vaccine, while higher-income countries rolled out immunization programs in parallel.
The end was in sight for our health crisis. But in June 2021, the global economy was still in a depressed state. As governments started debating their options for new stimulus packages, a wave of public protests broke out, with taxpayers in Brazil, Germany, Canada and elsewhere calling for shared rewards in exchange for bailing out corporate giants.
With Biden in office, the U.S. took those demands seriously and attached strong conditions to the next wave of corporate bailouts. Companies receiving funds were required to maintain payrolls and pay their workers a minimum wage of $15 per hour. Firms were permanently banned from engaging in stock buybacks and barred from paying out dividends or executive bonuses until 2024. Businesses were required to provide at least one seat on their boards of directors to workers, and corporate boards had to have all political spending approved by shareholders. Collective bargaining agreements remained intact. And CEOs had to certify that their companies were complying with the rules—or face criminal penalties for violating them.
Globally, gold-standard bailouts were those that safeguarded workers and sustained viable businesses that provided value to society. This was not always a clear-cut exercise, especially in industries whose business models were incompatible with a sustainable future. Governments were also eager to avoid the moral hazard of sustaining unviable companies. So the U.S. shale sector, which was unprofitable before the crisis, was mostly allowed to fail, and workers were retrained for the Permian Basin's fast-growing solar industry.
In the summer of 2022, the other major crisis of our age took a turn for the apocalyptic. Climate breakdown finally landed in the developed world, testing the resilience of social systems. In the Midwestern U.S., a severe drought wiped out crops that supplied one-sixth of the world's grain output. People woke up to the need for governments to form a coordinated response to climate change and direct global fiscal stimulus in support of a green economy.
Yet this was not about just Big Government, but Smart Government. The transition to a green economy required innovation on an enormous scale, spanning multiple sectors, entire supply chains and every stage of technological development, from R&D to deployment. At regional, national and supranational levels, ambitious Green New Deal programs rose to the occasion, combining job-guarantee schemes with focused industrial strategy. Governments used procurement, grants and loans to stimulate as much innovation as possible, helping fund solutions to rid the ocean of plastic, reduce the digital divide, and tackle poverty and inequality.
A new concept of a Healthy Green Deal emerged, in which climate targets and well-being targets were seen as complementary and required both supply- and demand-side policies. The concept of "social infrastructure" became as important as physical infrastructure. For the energy transition, this meant focusing on a future of mobility strategy and creating an ambitious platform for public transportation, cycling paths, pedestrian pathways and new ways to stimulate healthy living. In Los Angeles, Mayor Eric Garcetti successfully turned one lane of the 405 freeway into a bicycle lane and broke ground in late 2022 on a zero-carbon underground metro system, free at the point of use.
Rising to the role of the "entrepreneurial state," government had finally become an investor of first resort that co-created value with the public sector and civil society. Just as in the days of the Apollo program, working for government—rather than for Google or Goldman Sachs—became the ambition for top talent coming out of university. Government jobs became so desirable and competitive, in fact, that a new curriculum was formed for a global master in public administration degree for people who wanted to become civil servants.
And so we stand here in 2023 the same people but in a different society. COVID-19 convinced us we could not go back to business as usual.
The world has embraced a "new normal" that ensures public-private collaborations are driven by public interest, not private profit. Instead of prioritizing shareholders, companies value all stakeholders, and financialization has given way to investments in workers, technology and sustainability.
Today, we recognize that our most valuable citizens are those who work in health and social care, education, public transport, supermarkets and delivery services. By ending precarious work and properly funding our public institutions, we are valuing those who hold our society together, and strengthening our civic infrastructure for the crises yet to come.
The COVID-19 pandemic took so much from us, in lives lost and livelihoods shattered. But it also presented us with an opportunity to reshape our global economy, and we overcame our pain and trauma to unite and seize the moment. To secure a better future for all, it was the only thing to do.
Crisis Management Examples: Learn From These 5 Brands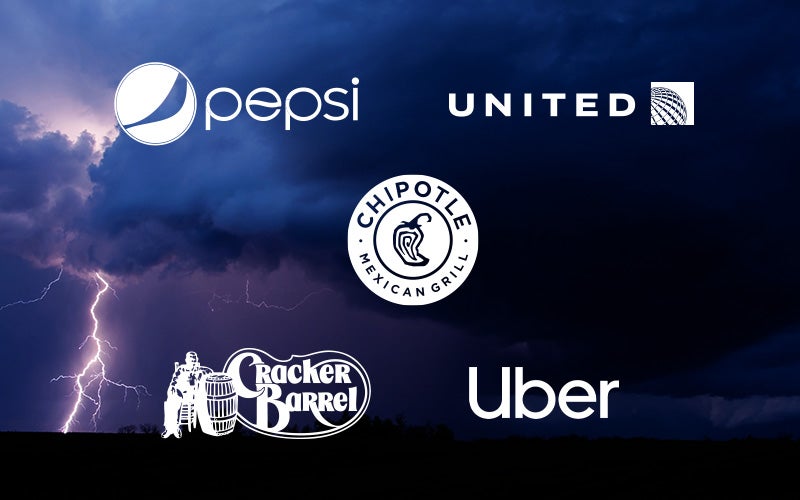 We'd all like to think we respond well under pressure. That we rise to the occasion. That we handle criticism like the professionals we are. That we can respond appropriately when the $#!% hits the fan. Unfortunately, that's not always the case for brands and the humans who run them. That's why a crisis management strategy is so crucial.
Recent history has seen some of the world's preeminent brands come under fire from the media, and even their most devoted followers. Crisis management examples are easy to find these days: We've seen Uber lose 200,000 users in the wake of #DeleteUber and United lose $800 million in value in just a few hours. That kind of response to brand crises is pretty remarkable, and it also says something about each brand's crisis management strategies.
What is crisis management? Shift Communications defines it as:
… analogous to putting out a fire … A fire requires three things to burn – heat (energy), fuel, and oxygen or a catalyst like oxygen (speed). Take away any one of those elements and the fire goes out. In a crisis communications situation, something has gone wrong and your brand is on fire. There's the something you did or something you're responsible for – the fuel. There's the tide of public opinion – the heat, the energy. There's your speed of reaction to it – the catalyst. As with real fires, if you deny the fire any one of these sources, you break the chain reaction that causes fire and it burns itself out.
And Brandfolder CEO Steve Baker defines crisis management as:
Crisis management is like your Dad stockpiling MREs before Y2K (come on, we all knew someone's parents who were doing it). It seemed like overkill, like preparation for an event that was never going to happen. But they had a strategy, supplies, even communication plans mapped out and documented so that if the worst happened, they were ready. As brands you hope that, like Y2K, a crisis never happens, but if it does, you want to have the mother of all crisis management plans ready so that your company and your brand are protected.
Below, we'll take a look at five crisis management examples and how these brands handled crisis communication. Does your brand have a strong crisis management strategy in place?? If not, this list might give you the incentive you need to get started.
1. Uber
Uber went from one of the most celebrated brands in the world to one of the most reviled in a matter of months. The ride-hailing company started 2017 off in hot water when it was revealed that CEO Travis Kalanick was serving on an advisory council to President Trump. The hashtag DeleteUber was born and Kalanick announced that he would be stepping down from the council shortly after.
The hashtag made a comeback in February, first when Uber continued operating at JFK International Airport during a taxi strike in protest of President Trump's immigration ban, sparking a company crisis. And second, when ex-employee Susan Fowler Rigetti leveled claims of sexual harassment and gross HR misconduct at the company. Kalanick announced an immediate investigation into the issue, but early investors voiced concerns over the impartiality of the internal investigation and the company's private arbitration clause.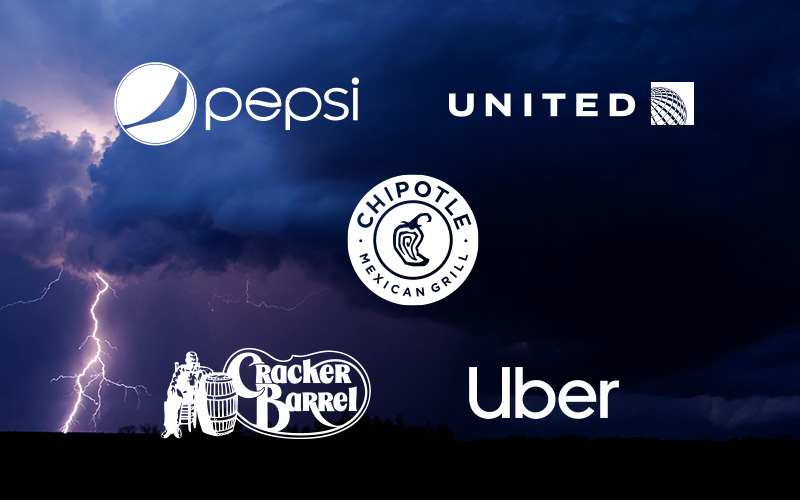 The hashtag really gained momentum a few days later, however, when video surfaced of Kalanick arguing with an Uber driver about a drop in driver pay. Kalanick released a statement on Uber's website saying, "I must fundamentally change as a leader and grow up." But for many Uber customers, the damage was done and the video was viral.
February 2017 also saw Uber slapped with a lawsuit from Google. The technology giant claimed Uber stole technology from their self-driving vehicle division, Waymo. So far, this case isn't going in Uber's favor either. The tech darling is also in hot water for using technology called Greyball to elude authorities worldwide, and has seen several executives, including their head of communications, step down.
Uber's Crisis Management
How has Uber handled the negative attention? While the company continues to release statements concerning each incident, it's hard to ignore the fact that missteps keep piling up. A lack of transparency has been Uber's biggest failing in handling much of the public interest. A heartfelt letter from the CEO promising to be a better leader won't get the company far unless the public sees steps and actions taken to get there. Uber is a classic example of crisis management gone wrong.
2. Cracker Barrel
You never know what the internet is going to find and amplify, but for Cracker Barrel, it was Brad's wife. In February 2017, Bradley Reid posted on Cracker Barrel's corporate website asking why his wife Nanette had been fired from the retail-manager job she'd held in an Indiana Cracker Barrel for 11 years.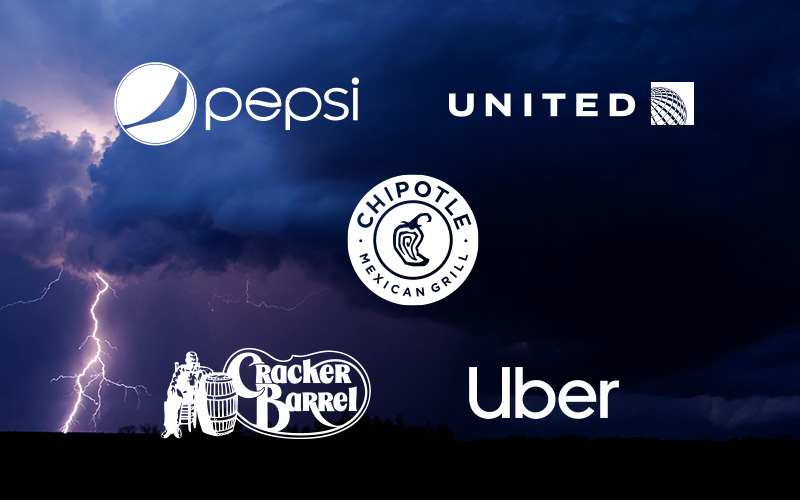 It wasn't long before The hashtag #JusticeforBradsWife began trending. Someone even started a Change.org petition for answers that garnered over 17,000 signatures. People began adjusting Yelp and Google pages for the brand to reflect well, Brad's wife. And other fast food chains began capitalizing on Cracker Barrel's bad press, including a Chick-fil-A sign emblazoned with "Now Hiring Brad's Wife!"
Cracker Barrel's Crisis Management
The restaurant's crisis management was, apparently, not to treat this like a crisis. They kept quiet on the issue, never publicly addressing the movement or Brad's Wife. While you'll still find a few #NotMyCountryStore hashtags littering Cracker Barrel's social media channels, the firestorm has mostly passed. And, according to the company's latest numbers, they're doing just fine. Cracker Barrel shows us an example of how silence can sometimes be the best form of crisis communication.
3. Chipotle
In July 2015, the E coli outbreaks started for Chipotle and lasted through January 2016. It began in the Northwest and spread across dozens of states. The result was an 82% decrease in profits over the course of a year and Chipotle stock down 15%. 2016 also saw an executive arrested for cocaine possession and 10,000 workers suing the company for unpaid compensation.
Chipotle's Crisis Management
The burrito company's crisis management strategy has been a long and often criticized one. In the midst of the 2015 outbreaks, co-CEO Monty Moran spoke at an industry conference for investors saying:
It's been fueled by the sort of unusual and even unorthodox way the CDC has chosen to announce cases related to the original outbreak in the Northwest," he said. And: "Because the media likes to write sensational headlines, you'll probably see, you know, when somebody sneezes … 'Ah, it's E. coli from Chipotle' for a little bit of time.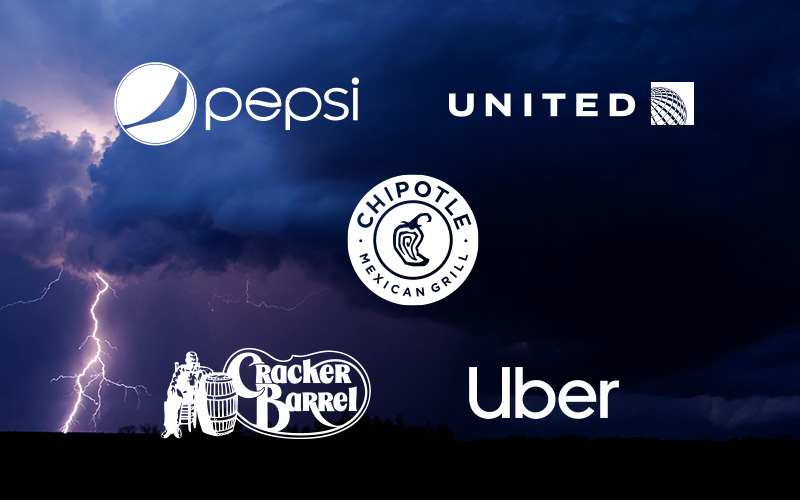 While truthful, as journalists at Fortune pointed out, "this is not how you win back the world's confidence." A few days later, Chipotle founder Steve Ellis appeared on the Today show apologizing to consumers and promising that "The procedures we're putting in place today are so above industry norms that we are going to be the safest place to eat." It was a bold promise, and one that made some PR professionals nervous for the already queasy company, but Chipotle's stock made a 5% climb after Ellis' speech.
In 2017, Moran stepped down as co-CEO, a move that was heralded by many. However, finger pointing, wishy-washy answers and apologies, and a lack of company representation at the 125 food safety cases that were settled in 2016 has some feeling that the brand could have done a better, more authentic job of recovering its image.
Another head-scratcher? Chipotle's latest ad campaign in which comedians tout the virtues of Chipotle's "real food."
4. Pepsi
The joys of flying under the radar have probably never seemed so blissful and sweet to Pepsi execs. In April 2017, Pepsi kicked off a new ad campaign with a commercial starring Kendall Jenner. Over the next 48 hours, the "short film" received nearly 1.6 million views on YouTube.
That might seem harmless enough, but by this time we all know what followed. The world was treated to Jenner leaving a modeling gig to "join the conversation" which she and her fellow marchers seem to "win" after she hands a police officer a Pepsi. The backlash was immediate and fierce, but in Pepsi's defense, so was their crisis management.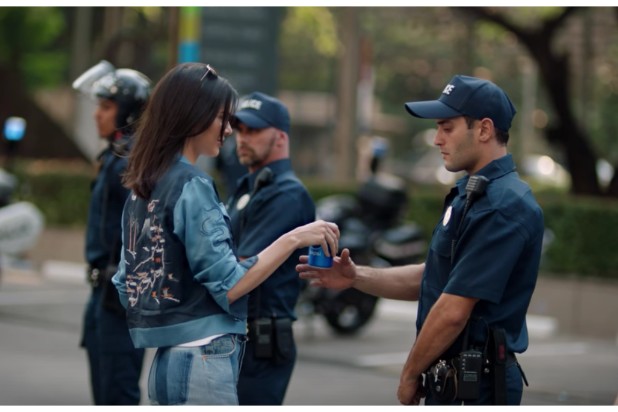 Pepsi's Crisis Management
The brand did initially release a statement defending their campaign by saying, "This is a global ad that reflects people from different walks of life coming together in a spirit of harmony, and we think that's an important message to convey."
However, less than 24 hours later the soda company had pulled the ad and paused the campaign entirely. A second statement followed: "Pepsi was trying to project a global message of unity, peace, and understanding. Clearly, we missed the mark, and we apologize." The response was heralded for its speed and straight-forward nature, but it will take a while for the brand to recover from this internally created "worst ad ever."
5. United
You knew it was coming. You expected this. And here we are. Fasten your seatbelts because it's been a bumpy ride for United, and it's likely going to stay that way for a while.
In early 2017, social media erupted with the news that United barred two teenage passengers from boarding a flight because of the leggings they wore. The situation quickly escalated as a nearby traveler tweeted about the incident. Far from apologizing, United released a series of tweets defending the gate agent's actions and claiming that this was standard procedure for passengers flying as "pass holders." The "pass holder" reasoning seemed to mollify some, but all agreed the that the situation had been poorly handled.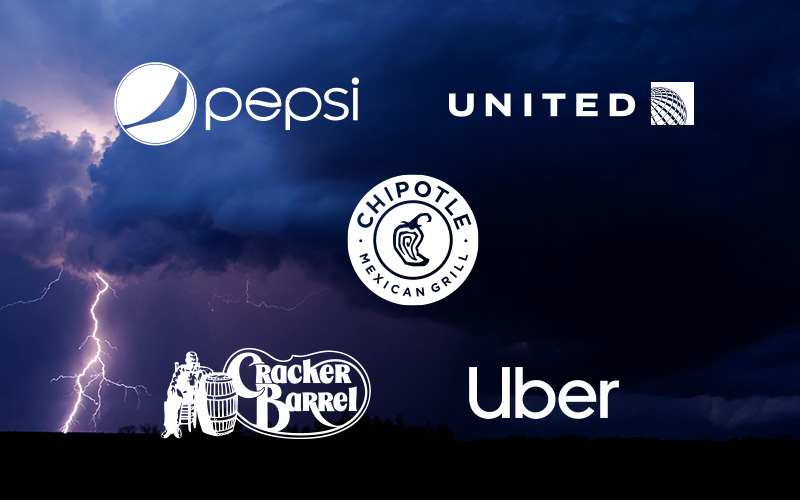 The leggings scandal was nothing compared to what happened a few weeks later, however, when video surfaced showing a United customer being brutally dragged and bloodied from a flight. While initial speculation was that the paying passenger had been asked to give up his seat because of overbooking, it was soon revealed that the seats were being repurposed for United's own employees.
United's Crisis Management
One would think that the response from United would be swift and sincere, but one would be wrong. Instead, the airline's CEO, Oscar Munoz, released a statement in which he defended the actions and protocol taken by the flight crew and apologized for having had to "re-accommodate these passengers."
Within 24 hours of the incident, United Continental had lost $800 million in total value. By comparison, Pepsi's value changed very little as a result of their controversial ad. What followed was too little too late. Munoz made several follow-up statements and apologies to attempt to make up for his first, but public sentiment only worsened. At publish of this article, a lawyer for the brutalized passenger announced that his client had lost two front teeth, suffered a concussion and a broken nose, and required reconstructive facial surgery.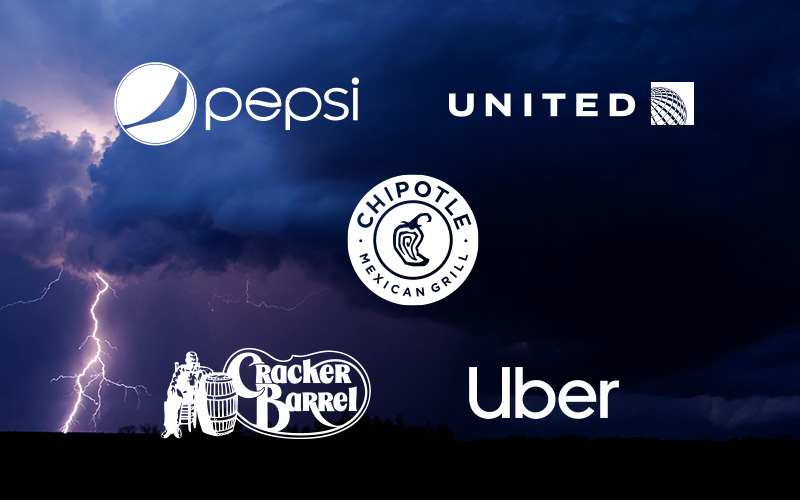 It's easy to see what a rapid and genuine response to situations like this can do to gain back a brand some semblance of control. It's also easy to see what the lack of the former can do to a brand. Time will tell what the road back to customer and industry trust has in store for United, but some experts say this may spell irreparable brand damage for the airline.
Crisis Management 101
All brands hit bumps and PR nightmares in the road, but quick, transparent, and genuine crisis communication may lead to a far faster and more holistic recovery than trying to hide, defend, or ignore your missteps.
Another way to be prepared for your brand's bad days? Having a Digital Asset Management (DAM) platform that's populated with brand guidelines, PR strategies, and press kits to make swift responses possible when you need them most.
Not quite sure where to start while shopping for the right DAM? Click below to access our free DAM Buyer's Guide!
Brandfolder
Get a Quote
Explore Product
Brand Intelligence
What's New
Industries
Support
Sign In
Resources
Resource Center
Our Brandfolder
Workbench
What is DAM
Integrations
API
Community
Brand Collective
Blog
Events
Partnerships
Learn More
About Us
Legal
Security
Careers
Get in Touch
Denver • Chicago • Los Angeles • New York • San Francisco
Copyright @2021 Brandfolder Digital Asset Management